Procurement scope
ProEmpower looks to procure an integrated ICT solution for diabetes self-management which should be offered to the procurers as a managed service. The solution must address the following building blocks of diabetes management:
Early detection: allowing for identification of persons with undiagnosed diabetes type 2 using existing relevant patient data.
Patient-professional co-ordination: collaboration between the patient and the professionals through a shared care plan that includes relevant patient data and can be used to schedule alerts, set goals and track progress, and facilitate mutual decision making.
Personal decision support: enhancing medical decisions by personalised decision support tools that summarise patient clinical characteristics, treatment preference and ancillary data at the point of care.
Comprehensive diabetes training offer: providing comprehensive training to diabetic patients in accordance with the procurers' current training programmes. This includes laying out a training strategy and approach and the related content and development of appropriate delivery methods (eLearning, blended learning, video, audio, etc.). Most importantly it should aim at developing the confidence and skills for patient self-management.
Glucose control loop: collecting, storing and analysing different parameters to provide comprehensive information and advice and effectively manage the patients' diabetes. Especially relevant are factor influencing blood glucose levels like stress, carbohydrate intake and activity allowing to predict glucose levels.
Healthy lifestyle: educating and motivating patients about healthier lifestyle with diabetes
Self-help and peer support: offering an environment (platform) for patients and professionals to exchange information and connect socially
Quality & outcome reporting: offering evaluation of treatment methods and benchmarking among physicians
The solution must be interoperable and fully integrated with the local EHR systems of the four procurers and be offered to function within their servers. The procurers are committed to providing relevant (if necessary dummy or anonymised) data and characteristics to support the development of the solution. The call for proposals will include a comprehensive set of functional and non-functional requirements, use cases and service process models.
The following diagram summarises these requirements by representing the vision of the procurers, listing the functionality without specifying technologies or technological approaches, which is left to the suppliers to propose.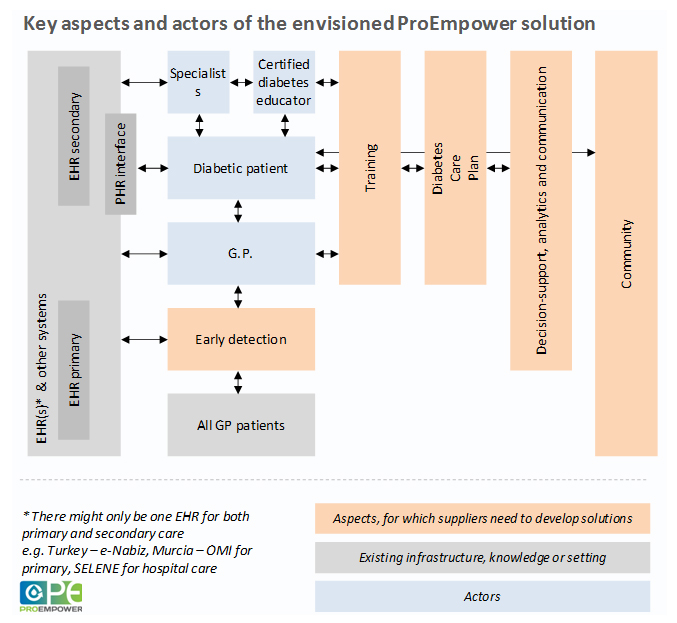 In case of inconsistency, the tender documents have precedence over any information presented on this page.