The ProEmpower solutions for empowerment and self-management of type 2 diabetes are showing great results across the four pilot sites in the project. In February 2020 the ProEmpower consortium visited one of them - Barrio del Carmen health center in Murcia, Spain.
Fifty people with type 2 diabetes and fourteen health professionals (7 family doctors and 7 nurses) have been testing one of the two ProEmpower solutions since autumn 2019. The solution enables both patients and professionals to work together to define the best treatment approach and to ensure it is adhered to, enabling the patients to better control their diabetes in the long term via lifestyle changes mainly related to nutrition and physical fitness.
The Spanish pilot in Murcia is led by the Murcia Health Service (SMS) and the Foundation for Health Training and Research of the Region of Murcia (FFIS), which are both partners in the consortium of eleven entities from six European countries participating in ProEmpower.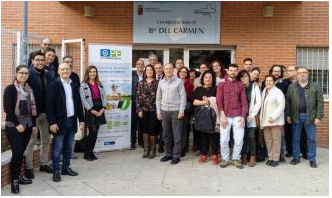 ProEmpower is a pre-commercial procurenmet project which started in October 2016 and is currently in its last stage – pilot testing of two solutions from two different supplier consortia across four pilot sites in Murcia, Ankara (Turkey), Naples (Italy) and Amadora (Portugal).
During the visit of the ProEmpower consortium at Barrio del Carmen health center, the users could report their experiences so far with the solution.

Francisco was quite sporty until his health problems started. Through the ProEmpower solution, his motivation to exercise has been renewed and his competitive gene has been awakened in favor of his health.

Rosa has finally managed to lose weight (8 kg) in the two months she has been using the ProEmpower solution. Through the reminders and motivational aspects of the solution, she has been able to define and follow a healthier lifestyle, which she has managed to transfer also to her children and co-workers.

Domingo, Rosa's doctor, has been able to help her by sending online questionnaires to assess her motivational status and adjust the treatment objectives via the solution based on her progress, without Rosa having to waste time from her work in visits to the centre.

Antonio, like many diabetics, also has other co-morbidities. Through ProEmpower he finally has a continuous reference about the status of his diabetes. His results are so remarkable, that today he does not require insulin to manage his diabetes. The solution's bracelet device also helps him better understand and improve his sleep quality. With continuous monitoring of the blood oxygenation enabled through the solution, his pulmonologist has also been able to better adjust the device that he uses to help him breathe while sleeping.

Emilia, nurse leader, highlighted the main benefit of using the solution, which is a significant efficiency improvement thanks to avoided unnecessary visits to the center, the causes for which can be easily discussed remotely via the solution's communication aspects.
The ProEmpower project is expected to be completed in August 2020. Detailed results will be available on the project website: proempower-pcp.eu