Call for Tender
The process started with an Open Market Consultation. An open European-wide call for tenders has been launched on 18 January 2018. Suppliers are invited to submit proposals by 21 March 2018. Afterwards, proposals will be reviewed and ranked. Selected suppliers will be invited to enter a competitive itinerary divided in 3 phases.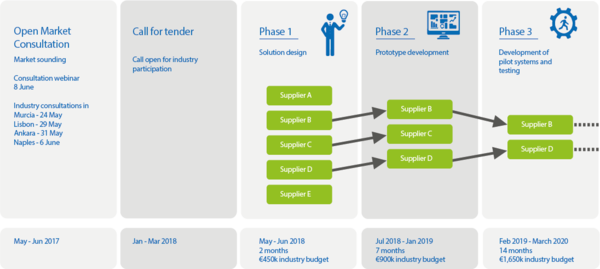 Phase 1: Concept design, solution architecture and technical specifications
Duration: 2 months
Budget: up to €450,000
Selected suppliers from the call develop the solution based on the requirements, use cases and service process models defined by the procurers. The solutions which have the highest evaluation score exceeding a threshold are selected by the buyer group for the next phase.
Phase 2: Development of prototype systems in two iterations
Duration: 7 months
Budget: up to €900,000
Selected suppliers develop the prototypes of their solutions in two iterations – v1 as non or partly functional prototypes of key system components, and v2 as functional prototypes, demonstrating concept behaviour and system-wide interaction. Both iterations are subjected to testing with end users at each procurer site. The solutions which have the highest evaluation score by the procurement team are selected for the next phase.
Phase 3: Development and testing of pilot systems
Duration: 14 months
Budget: up to €1,650,000
Selected suppliers develop the pilot systems for an 8-month test under real-life conditions with 200 patients. Systems are installed and tested by the suppliers at the site of each procurer (one pilot per procurer). Operation is maintained at full quality. Suppliers set up and operate a help service and maintenance response team to address problems faced by the patients, professionals and other staff involved at the sites. Help and support is provided at each site.
The selection of the suppliers responding to the call for tenders as well as the evaluation of the outcomes of each phase will happen on the basis of a common set of quality-prize criteria.
In case of inconsistency, the tender documents have precedence over any information presented on this page.